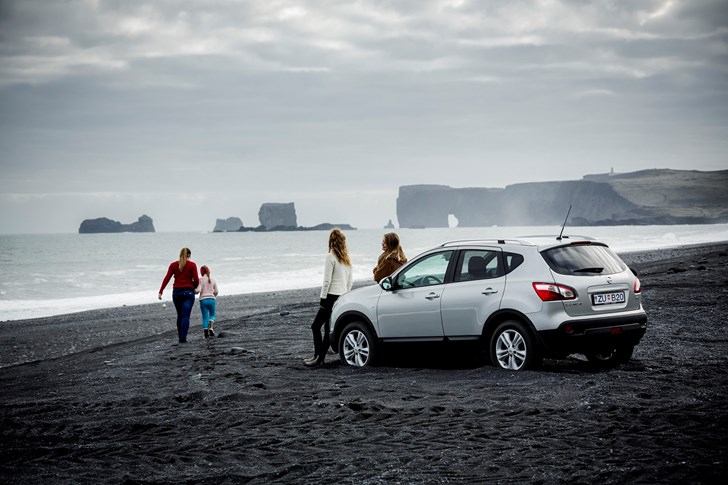 Choosing the Right Car for an Adventure in Iceland
When it comes to choosing the right car to use when exploring our beautiful island, there are many things that you should bear in mind.
For a road trip around the Icelandic Ring Road, or Route 1, you have many options when it comes to size and equipment depending on your needs for luggage space and how many people you are travelling with. Cars that fit 2 people with luggage for long trips are plentiful and even if the group is as big as 17 people you will find a car in our fleet that will fit your needs.
Many of the roads in Iceland are marked with "F" and they are mostly highland roads that can be very tricky to drive. All travellers should be aware that there is not much service on these roads and the road conditions can change very quickly with our unpredictable weather. For these roads, you will need a car with four-wheel drive to get to your destination. It is also very important to make sure the road you want to take is open and suitable for driving. For l large portion of the year, these roads are closed.
We also recommend using four-wheel drive cars if you want to explore the Westfjords of Iceland. In this area, there are many steep hills on old gravel roads with sheer cliffs on one side, making it much safer to have better traction when driving on those roads.
River crossing in the highland area is also a part of the journey if you plan to see places like Landmannalaugar, Þórsmörk and Askja. You are always taking a risk when you cross a river or stream in a car and our best advice is simply to wait until you see someone else cross before entering the water and never travel alone in the highland area. You should never try to cross the river Krossá on the road to Þórsmörk in a rental car, always leave the car and walk or take the bus to the other side of the river. This river is a lot more powerful than most people realize and it can be very dangerous to cross it if you don´t know the correct way.
It is always a good idea to contact a local to get information before you make a decision. The Icelandic people are very friendly and they will gladly help you with your choice.