Information about the Vadlaheidigong tunnel in North Iceland
Vadlaheidargong tunnel is a brand new 7,5 km tunnel, situated on the ring road close to Akureyri in North Iceland. The new tunnel shortens the ring road by about 16km or about 6 minutes driving time. However, traveling over Vikurskard mountain passage in winter can be difficult due to snow and ice and the new tunnel allows travelers to skip that.

Photo from a brochure about the tunnel.
There is a toll for driving through the tunnel which can only be paid online. See the 2 different prices on the photo below:
1. If you pay within 3 hours the price is 1.500 ISK.
2. If you pay after 3 hours it is 2.500 ISK.

The price is each way so if you go back and forth, the price doubles. For details, please see the photo below or read all about the pricing on the Vadlaheidargong tunnel website.

Please note that if you choose to not pay at all, Átak car rental will be notified and will charge your credit card for the 2.500 ISK tunnel fee plus a 2.400 ISK service fee, a total of 4.900 ISK.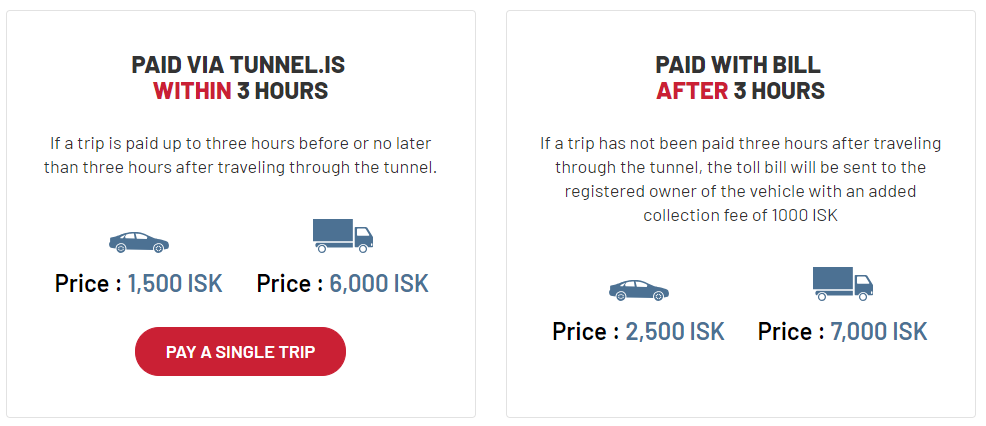 A word of advice, skip the tunnel if the weather and road conditions are good. Vikurskarð mountain passage offers beautiful views and only takes about 6 more minutes to drive. However, if road conditions and weather is bad, we absolutely advise taking advantage of the tunnel.
Please review the Vadlaheidi tunnel FAQ section for more information.