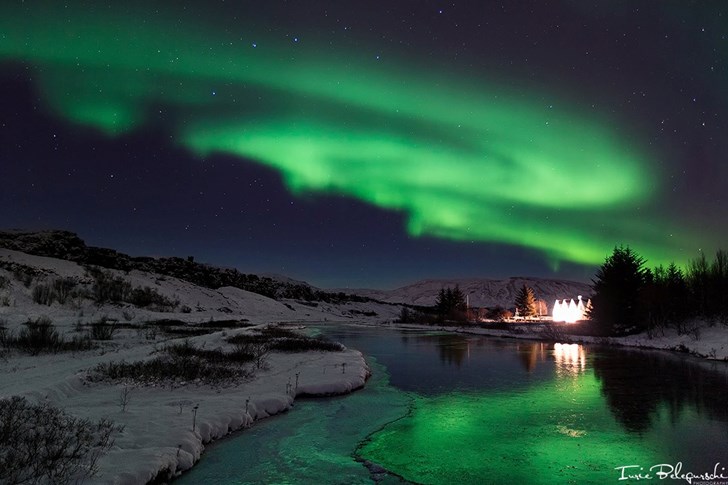 How to Spend Two Days in Iceland
If your time in Iceland is limited then read this to understand how it´s best spent here. This article is about what you can you do if you only had two days in Iceland. This is a question we get a lot because it has become very popular to arrange for long layovers in Iceland when travelling to different parts of the world. 
Of course it depends on if you are visiting Iceland during summer or in winter. If you´re coming during winter you should definitely make it a priority to see the Northern Lights. If you´re lucky you can see them in Reykjavík, but most of the time you need to leave the city see them without the distortions that come from the city lights. You will need clear and dark skies to see them best. To know if the if the weather will be preferable for aurora hunting look at the aurora forecast before deciding to rent a car for a short drive out of the city. You can also be prepared and rent a car from the airport and have it with you just in case the aurora appears. The forecast is, of course, only a forecast and not certain. 
There are many other winter activities you can take part in, like exploring glaciers, dogsledding, skiing, snowmobiling and so much more. 
If you´re coming during the summer we recommend that you rent a car and drive the Golden Circle. The Golden Circle is a 300 km route that includes some of the most amazing natural attractions in Iceland. You will see Þingvellir National Park, the Geysir geothermal area and the mighty Gullfoss waterfall. This will take about 4 hours to explore after heading out of Reykjavík. In the night it would be wise to stay somewhere near Laugavatn. The next day you can drive the south coast of Iceland all the way to the glacier lagoon Jökulsárlón. The reason we recommend this is simply because the glacier lagoon Jökulsárlón is considered by many the most beautiful place in Iceland. Here, you will see a brilliant blue lagoon filled with icebergs, where beautiful chunks of sparkling ice wash ashore.
 Even though the drive is long there are some amazing natural attractions along the way, like the Seljalandsfoss and Skógafoss waterfalls, but also some amazing rock formations and sea cliffs at Vík and Dyrhólaey. Once you´ve reached the glacier lagoon you can drive your car back to Reykjavík, or you can drop off your rental car at Keflavík airport. This way, you will have experienced some of the most amazing natural attractions Iceland has to offer, just by renting a car and taking off into the wild.
You can let us know if this is a route you prefer to do, and we can help you stick in the GPS locations of all the best attractions on the way. We also have free pick up from anywhere in Reykjavík, so you can always decide to leave the city whenever you wish.