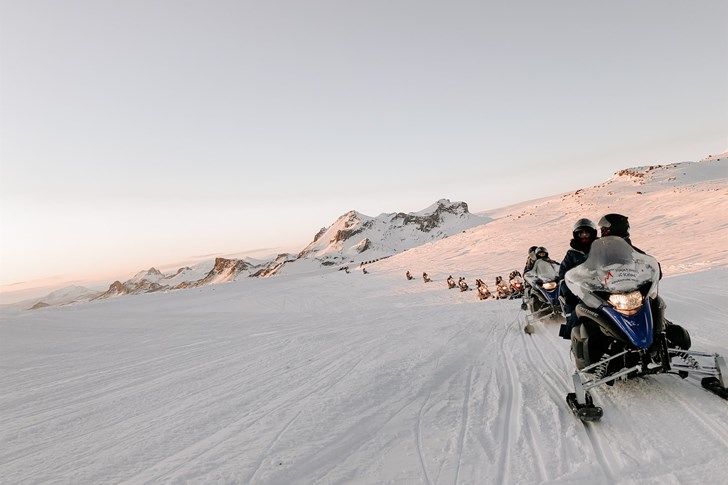 Reasons To Go Snowmobiling in Iceland
Though not a massive country, the sheer variation in landscapes means that Iceland is a hotspot for all kinds of activities. From a leisurely spa stay to an extreme sports fan's dream, there is truly something for everyone in this incredible country. The thrill-seeking activities on offer are outstanding, from simple hiking to surfing, and ice climbing to white water rafting. Another one to add to your roster: snowmobiling.
Snowmobiling can be an incredible and unique way to see Iceland's landscape. You can cover incredible distances over Icelandic glaciers in mere minutes, something simply impossible by other forms of transport. Learn more about this incredible activity and where you can do it.
How to Snowmobile in Iceland?
Snowmobiling is commonly done in most snowy parts of the world. A snowmobile, also called a Ski-doo, is specifically designed for travel over the surface of the snow. Typically, each vehicle will seat 1 person but can be for 2 people too. On a snowmobile, bar a small screen in front of you, riders are exposed entirely to the elements. This makes it an excellent way to truly experience Iceland's scenery.
Can I Snowmobile in Iceland?
The only way to snowmobile in Iceland is to find a tour operator in the area of Iceland you are staying in. In doing so, you'll benefit from a dedicated guide including all the right equipment, the proper attire, and probably even a hotel pickup service. Tours last 2 or 3 hours,  for the most part, so you can consider combining your tour with other fun activities in Iceland.
As long as you are over 18 years of age and hold a valid driver's licence from your home country, you should be permitted to join a snowmobiling tour in Iceland.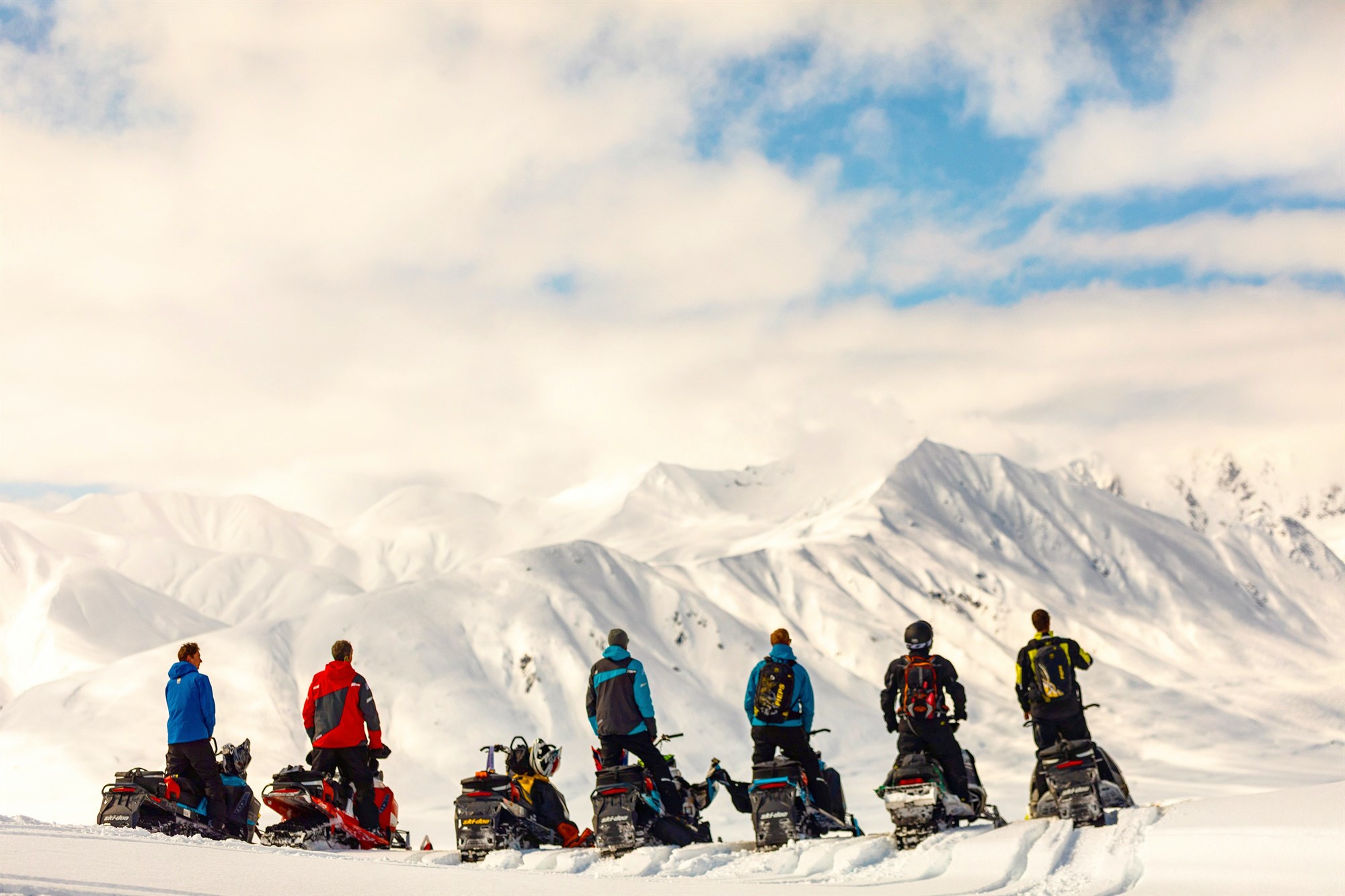 What Do I Need to Snowmobile?
The right clothing and safety equipment is an absolute must when you snowmobile, mainly to ensure you remain warm and dry on the glacier. Before leaving your hotel or BnB, ensure you are equipped with warm layers, socks and sturdy walking boots. 
When preparing with your tour provider, you should be supplied with warm overalls and waterproof overalls, and in winter especially it's recommended to take both. Gloves, goggles/glasses and helmets are also staples of Snowmobile attire. 
Where to Snowmobile in Iceland?
Iceland is ruled by fire and ice, the latter being the most important for snowmobiling. Snowmobiling is typically done on Iceland's glaciers, where there is plenty of snow and ice.
Glaciers sit in Iceland's highland centre, north, and over volcanic systems across the country. If you are staying in Reykjavik or Akureyri, there will be pickup services running around the city, so there should be no problems accessing a tour. The drive to the glacier could take several hours from the capital in the southwest, depending on the glacier in mind. The most popular glaciers for snowmobiling are:
Langjökull

Vatnajökull

Lake Mývatn

Mýrdalsjökull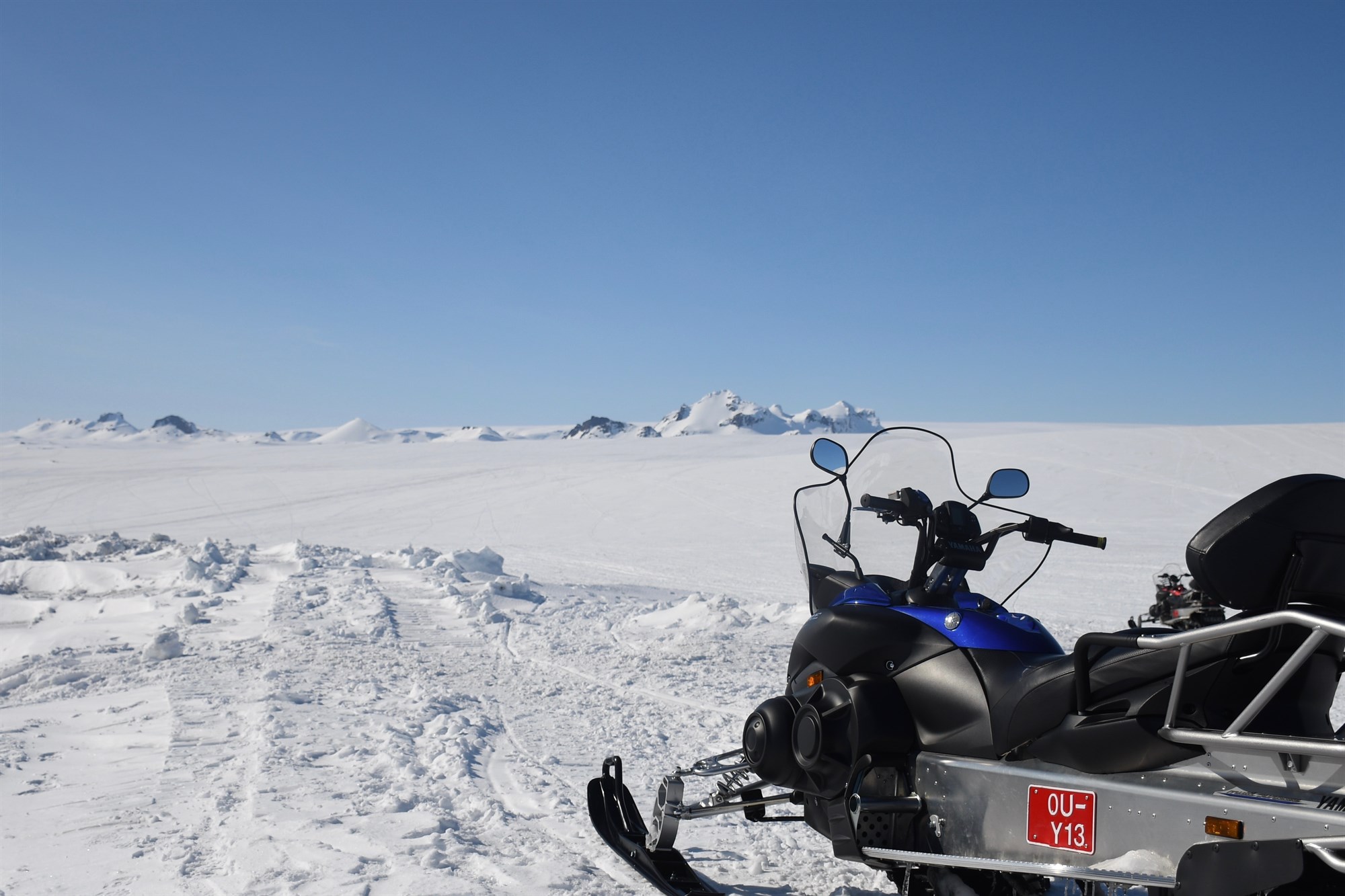 When Can I Go Snowmobiling on Iceland's Glaciers?
Weather is the main concern for when it is best to go Snowmobiling. Glacial weather is notably unpredictable, even by Icelandic standards, so winter is generally avoided as this is when the worst of the weather blows across the country. Autumn, Spring and Summer are all excellent times to embark on a Snowmobiling tour. Note that in extremely bad weather, tours may be cancelled or postponed.
Is Snowmobiling in Iceland Worth It?
A knowledgeable guide leading you soaring over the dramatic snowy landscapes of Iceland's glaciers truly is a once-in-a-lifetime experience. It's a chance to see an area of Iceland you otherwise wouldn't be able to glimpse. Glaciers are integral to Iceland's geography, supplying their incredible water, creating waterfalls and as a result rivers and caverns. To see where all these things start while having an almost criminal amount of fun, snowmobiling in Iceland is the perfect stop on your adventure holiday.
Make sure you explore all that Iceland has to offer at your own pace and hire a car from Atak. Our cars are all of the highest quality and you'll find models to suit your every circumstance. Families, couples, or even solo travellers will find affordable and robust options.